Coming Together: America to Me: Real Talk Montclair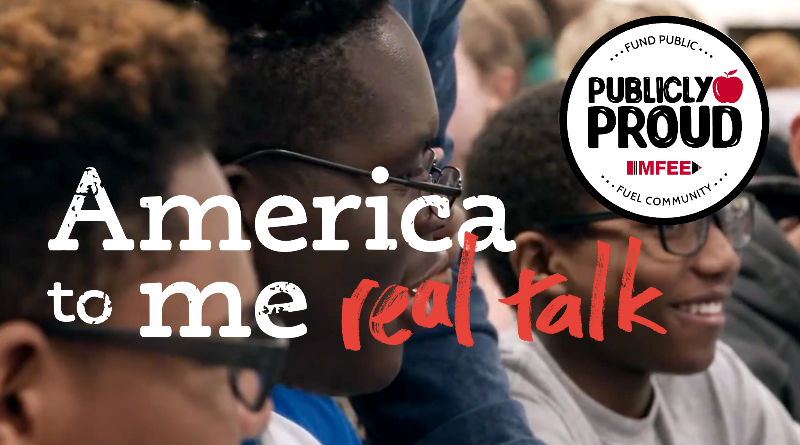 On Sunday, June 14th, America to Me Watch Group leaders and members will share takeaways and lessons learned from their Watch Group experience, and we will explore ideas to address the racial inequities in Montclair schools and in our communities.  The afternoon will open with remarks and Q&A with Dr. Bettina Love. Following the Q&A, Dr. Tanya Maloney and Dr. Bree Picower, who have been instrumental in designing this program and trained the Watch Group Leaders, will lead a conversation for Watch Group participants to share and exchange what emerged through the Watch Group Experiences. Finally, all participants will be invited to brainstorm ideas for action within Montclair schools and community. Please register to receive the event link.
---
Be Courageous
Race. Conversation. Honesty. Action.
We Montclairians pride ourselves in valuing diversity and promoting racial integration. 
• But how racially literate are we? 
• Have we grown complacent about racism in Montclair?  
• Are our past successes getting in the way of real change to address persistent racial inequality in our town?
Curious about your own racial literacy? And how it impacts your ability to identify and address racial inequity in our town? Join the community-wide watch of the documentary series, America to Me.
The series examines racial inequities through the eyes of teens in a Chicago suburban high school that looks and feels a lot like Montclair High. The community-wide watch series will operate like a community read - but with a film instead of a book!
Think Montclair is immune from racism? Think again.
Racism is pervasive and insidious. Even in Montclair. It negatively impacts economic prosperity, educational outcomes, and quality of life.  But we can do better. It starts with real talk. That leads to real understanding. That sparks real change.
Are you a member of a Spring 2020 Watch Group? Please click here to let us know.
How to participate in the conversation:
Sign-up for the Spring 2020 training and Watch Groups is closed, but we will be running a second round in Fall 2020. Click here to register to sign-up for Fall 2020.
The Launch
At a community-wide launch, we set the stage with speakers, introduced our talented facilitators, viewed select clips from the films, and provided information for those interested in becoming Watch Group Leaders.
It's kinda like being a book club leader - but with a film instead. You'll participate in 4 trainings with expert facilitators who will prepare you before you start your watch groups, and they'll provide support along the way.  This is an ideal experience for those interested in learning a little more about race and doing/leading a little self-discovery. You choose the people you invite to your group, set your meeting dates and document the group's learning to share at the closing event.
Can't lead a Watch Group, but still want to be part of one? Sign up below by filling out a short questionnaire, and we will connect you to a Watch Group.
Attend a 2-hour Condensed Screening and Discussion
Can't commit to a Watch Group, but still want to be part of the process? Sign up below to get information on a 2-hour screening and facilitated discussion.
The Closing
Join us for the closing event where we'll hear from series subjects from the documentary, share takeaways and lessons learned from our Watch Groups, and explore a menu of next steps.  
Questions? Check out our FAQs. Still have questions? Contact MFEE at info@mfee.org, (973) 509-4021
Watch the 'America to Me' Trailer