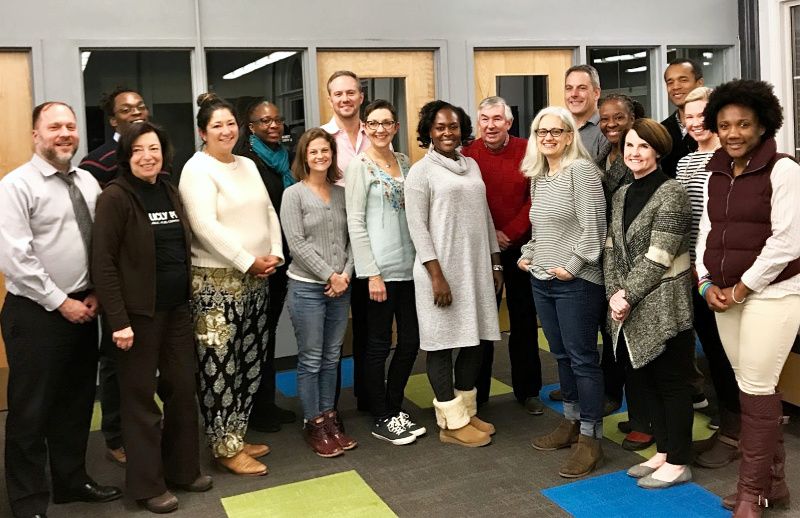 Eight new members were appointed to serve on the Montclair Fund for Educational Excellence (MFEE), Board, the local education foundation that supports the Montclair Public Schools.
Greg Foster, Kathy Walsh, Andrew Lacey, David Caldwell, Matt Russman, Desiree Johnson, Wil Hylton, and Sarah Hudson-Plush come to the Board with extensive experience in the nonprofit sector, strong ties to the Montclair community, and a commitment to supporting public education. These members will serve as volunteer leaders because they believe in MFEE's mission to leverage private resources to make our exceptional schools extraordinary.  
"After 27 years, MFEE has an incredible history of supporting our schools, and these new Board members are the perfect people to help usher in a chapter of even deeper impact. They represent a wide spectrum of stakeholders, including young MHS alums, and they are committed to educational excellence for all of our kids.," said Masiel Rodriquez-Vars, MFEE Executive Director.
Desiree Johnson is excited to serve on the MFEE Board because she says, "I love that MFEE enhances the quality of learning for all students and empowers teachers to teach outside of the box."
Rochelle Wilson, MFEE Board President shares, "On behalf of the entire board, we are honored to be joined by this exciting group of smart, dedicated volunteers. Having thoughtfully recruited each of them to deepen MFEE's bench, we look forward to their contributions. We continue building a legacy for our children. They are all our children."
Greg Foster has been a Montclair resident for 18 years. Throughout his career, he has been committed to broadening college access and closing the achievement gap. He has extensive experience in college admissions (Vassar, Columbia), marketing (TestU, Scholastic), and operational management in the education industry. Greg is the founder of Ivy Doors, a college admissions advising service providing college search and application support for families.
Kathy Walsh has lived in Montclair for 16 years. She has been a fundraising professional for over 20 years, most recently working at Montclair State University. Kathy serves the community through various volunteer projects and teaches kids' yoga at The Montclair Child Development Center.
A major part of Andrew's affinity for MFEE stems from his experience as a teacher from 1989-1994. Andrew has lived in Montclair since 2001 and is currently a Managing Director at Lazard Asset Management. He serves his community in a variety of ways, such as being Co-Chair of the Education Committee at the Montclair Art Museum and Co-Head of the Top-Soccer program in town.
David Caldwell is a Montclair native and graduated from Montclair High in 2005.. David has experience in sales, business development, and he has worked extensively in the nonprofit sector. His passion is working to serve the underprivileged in our community.
Matthew Russman has lived in Montclair for 15 years. Matt is a portfolio manager at Millennium and has been working in equity research and investment management for over 20 years. Prior to that, he was a corporate lawyer. Matt also serves on the board of trustees of JCAA, a child welfare organization in New York.
Desireé Johnson is the Director of Development at the YMCA of Montclair. She has worked in the nonprofit industry since 2006 but with the Y since 2011. Desireé also serves on the Executive Board of the North Essex Chamber of Commerce. The diversity, culture experiences and warm family friendly environment that is deep-rooted in Montclair is why Desireé enjoys living, working and raising her kids in this town.
Wil Hylton has lived in Montclair for 9 years. He has taught music for the past 26 years, and he is currently the Instrumental Music Director for Dr. Susan S. McKinney Secondary School of the Arts, located in Brooklyn NY. Wil is a strong supporter of the arts and music education and enjoys playing with the Montclair Community Band.
Sarah Hudson-Plush moved to Montclair three years ago. Sarah began her career teaching and then became a lawyer. She spent her time in practice working at nonprofit organizations in New York City representing low-income families and children in special education and child welfare matters. She currently works at the Public Interest Law Center at NYU School of Law, where she supports law school students embarking on social justice careers.