September 2020 Newsletter
Looking ahead to the
2020-2021 school year!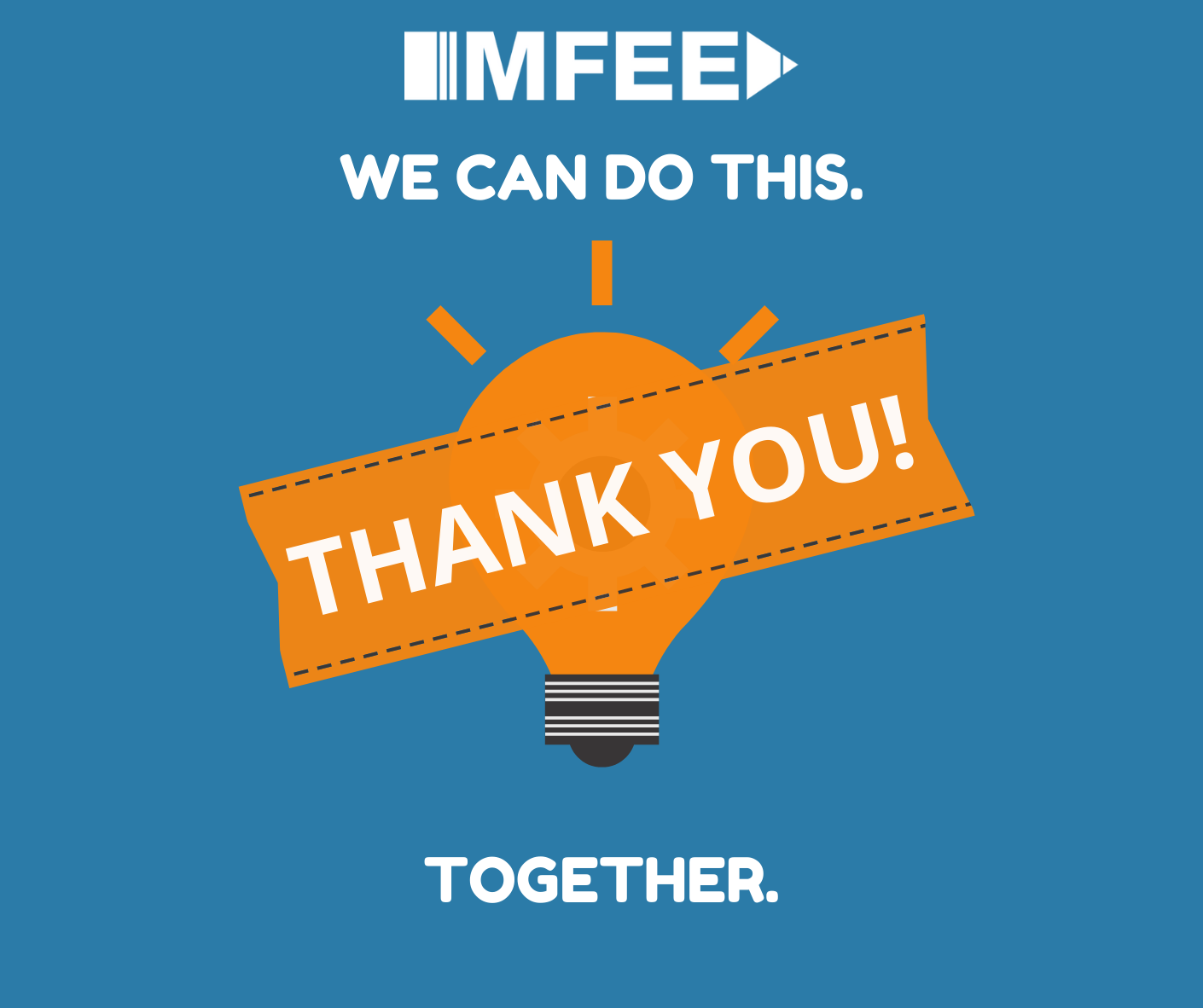 Thank you to the 200+ people -- from brand new kindergarten families to high school parents to alumni to district staff to community members-- who gathered virtually this week to listen, share concerns and brainstorm solutions that could support the Montclair school community this coming school year.
What's next?
Want to contribute to support MFEE's Remote Learning 2020-2021 initiatives? Funds will help develop and expand new programs. Donate here.
Want to help? Sign up to learn about volunteer opportunities as they develop. Click here to volunteer.
Look for updates from MFEE on how the work ahead has been shaped and developed by you!
Looking back on the 2019-2020 school year!
As we look back on a school year that was much more eventful than any of us could have predicted, we wanted to give you - our donors and supporters - a special thank you for all that you helped accomplish. We're working hard to continue supporting our school community as we gear up for what promises to be another eventful year ahead! Click here to continue supporting MFEE's work.
America to Me: Real Talk Montclair launched and takes on even greater urgency
Watch Groups designed to deepen our racial literacy using the documentary series America to Me ran this spring, and they are continuing over the summer and fall! Sign up for a Watch Group and engage with resources compiled by MFEE to sustain the momentum for fighting systemic racism. Find out more ››
Special thanks to The Schumann Fund for New Jersey and Partners for Health for supporting this work.
To support our middle school students struggling with remote learning, MFEE tapped into the potential of youth to help each other. MFEE connected high school teens with middle school students to provide individualized peer support. PEEPs will continue into next year. Deep thanks to The Schumann Fund for New Jersey and the Montclair Fund for Women for initial funding for this vital initiative. Donate here to support this program.
Our teachers quickly transitioned to remote learning this spring, and many dug into their own pockets to invest in unique tools to boost instruction.  To support those expenses, MFEE awarded Retroactive Grants to staff members for tech tools, creative ideas for lessons, as well as practical tools they needed to educate from their homes.
Renaissance Teacher Amir Doctry's Global Citizen Project inspires students to change the world.  Using grant money from MFEE's Educational Excellence grants, Mr. Doctry created an exciting way to teach middle schoolers about our world and connect them to global peers.
MFEE launched the News and Social Media Literacy Project in middle school and high school this year. Working with journalist Theresa Giarrusso, MFEE is piloting an engaging curriculum that teaches students the critical skills they need in our online world.  Students applied these skills in real-time to current events including Covid-19 reporting, Twitter and Facebook's labeling of misinformation, and the road to our upcoming elections. Donate here to expand this pilot!
Hundreds of teens and their caregivers spent an engaging Saturday morning learning, sharing, and boding over the ups and downs of navigating young adulthood in this increasingly complex world. Through workshops led by people with rich life stories offering wisdom and support, attendees "exhaled a bit" knowing they aren't alone on this journey and picking up a few tools to help them along the way. 
MFEE launched the Arts Open Hearts campaign to fund arts programs that nurture social/emotional and teen mental health. Donations fuel ballroom dance residencies, poetry slams, and intergenerational story slams that foster connections, nurture self-esteem, and provide an outlet for self-expression. Donate here to boost these initiatives.
Thanks to your generous donations to our Teacher Tributes and Teacher Toasts this year, MFEE will continue to offer grants to staff that fuel innovation.  Our teachers need this support now more than ever.  To continue funding innovation during remote learning, please click here. 
What to look for in the fall:

Save the date: November 7th
with a new virtual format!
Our Contact Information
*{{Organization Name}}*
*{{Organization Address}}*
*{{Organization Phone}}*
*{{Organization Website}}*

*{{Unsubscribe}}*