Help Fahrenheit 207 Lip Sync Battle in Showdown Montclair!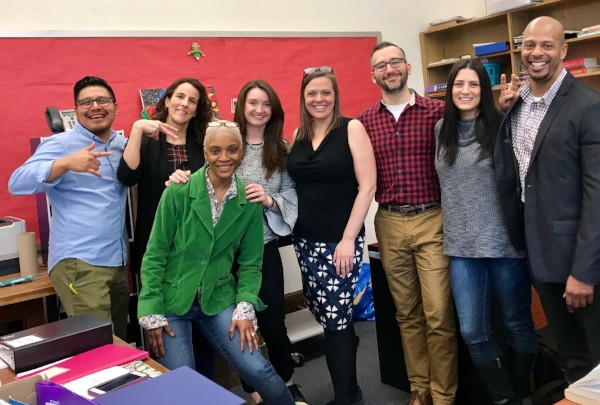 Fahrenheit 207
This Showdown just heated up!  The MHS English teachers from room 207 will light up the stage with a gutsy - and no doubt well-articulated - performance.  
Jeff Freeman, Gustavo Vazquez-Mendez, Andrea Smith-Morgan, Laura Heyman, Jonathan Meyer, Tara Crisfulli, Jessica Buel, Nick Stambulli, and Jamie Walker are ready to strut their stuff and school the other Lip Sync Battlers.  
These dedicated teachers are inspired by their students, and they're bravely taking the stage to earn funds to continue igniting their passion to learn. This group has found the right temperature at which students learn.
Help Fahrenheit 207 make it to the Showdown Stage with a donation!
We have raised
$1,400.00
of our goal.
Shout Outs to Fahrenheit 207!
$20: Jeff Gannon
$100: Good Luck! -- From the Carmichael Family
$25: We appreciate your efforts! -- David Oscar
$250: Good luck! -- Mary Beth Rosenthal
$25: Break a leg, fabulous teachers, and Burn UP that stage!! --Tracy Herrick
$100: Love the MHS English staff! Good luck! -- Deborah Garrison
$25: Anne Baney-Giampoala
$25: Alright Room 207! -- Shana and Jamie Stein
$50: Rock the house, 207! -- Andrew Heyman
$50 (MATCHED): Good luck! -- Emily Becker
$40 (MATCHED): Turn up the heat! -- Shalini Taneja
$50 (MATCHED): Heat it up! -- Margaret Whitsett
$20 (MATCHED): Montclair Orthodontics
$40 (MATCHED): Go Laura and the team! -- Madeline Soglin
$20 (MATCHED): Philip Haws
$40 (MATCHED): Megan Matson
$200 (MATCHED): MHS English teachers rock! -- Karen Vrotsos
$60 (MATCHED): Good luck to the hottest act in town! -- Debra Glessner
$20 (MATCHED): Good luck! -- Beryl Steinbach
$150 (MATCHED): SallyAnn Howell-Rembert
$25: Good Luck! -- Jonathan Mancinelli
Donate to help Fahrenheit 207 compete! All proceeds support the Montclair Public Schools.