Help Peter Giuffra Lip Sync Battle in Showdown Montclair!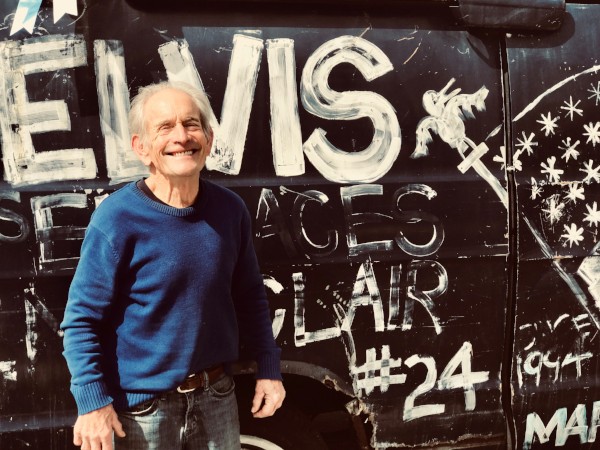 Peter Guiffra
Elvis has entered the building!  That's right.  Hometown hero, Peter Giuffra is throwing down the gauntlet and challenging all you Lip Syncers to an epic battle.
Don't let his sweet smile fool you. Peter's got a few tricks up his sleeve to win the title. You think you've seen him strut his stuff down Bloomfield Avenue in the Fourth of July parade? Think again. Peter's been saving up for this performance for decades.
The only thing that matches his passion for Montclair, and Montclair High in particular, is his passion for Elvis.  (Well, actually his true love is Buddy Holly...but he liked the Elvis costumes a little better).
Donate to Peter AND play a role in his performance!
Donate today and in the comments, post the Elvis song that you want Peter to Lip Sync! Then join us at the Showdown to watch his epic performance of the song with the most votes.
We have raised
$1,365.00
of our goal.
Shout Outs to Peter Guiffra!
$20: Who doesn't love Elvis! Good luck neighbor:) --Susan Iovine
$25: Thank you for taking such great care of our town and our kids! -- Karen Andes
$20: Can't wait to see Elvis perform! -- Bridget Placek
$100: Can't beat Uncle Pete! -- Jennifer Caldarella 
$100: Peter IS Montclair! Thank you for your spirit and heart! -- Margot Sage-EL
$25: Peter - you're the KING!!! -- Karin Carson
$50: We appreciate your efforts! -- David Oscar
$100: Elvis lives! -- Mary Beth Rosenthal
$50: You are my hero! -- Claire Ciliotta
$50: You are amazing — you give so much of yourself to this town and the schools! -- Barbara Rechan
$25: Peter, you are my Homeboy. Thank you for all you do for our kids and for Montclair. -- Billy Wingren
$100: Thanks for all of the memories, Uncle Peter! -- Denyse Comini Becker
$25: Can't wait to see this, Peter! We can always count on you in this community! -- Stacey Cermack
$10: Missoula loves Elvis! -- Ellen Lomega
$50: You're a rockstar Peter Giuffra! -- Athena and Deron Siddons
$100: Susan and I appreciate your constant good works and positive spirit, Peter. Keep it up! -- Charlie Marro
$20: Peter's the best! -- Jessica de Koninck
$40 (MATCHED): You are cute! -- Shalini Taneja
$20 (MATCHED): Montclair Orthodontics
$40 (MATCHED): You've always represented the very best of Montclair, Peter! -- Beth and Brian Fleischer
$20 (MATCHED): Philip Haws
$100 (MATCHED): Peter, you exemplify all that is good about Montclair! Thank you for always giving back to our community. Rock on! -- Drury Thorp
$40 (MATCHED): Go Elvis! -- Debra Glessner
$100 (MATCHED): Go Peter! -- Betsy Harris
$80 (MATCHED): Autoworks of Upper Montclair 
$100 (MATCHED): Taking Care of Business! TCB and good luck, Elvis! -- The Cooperman Family
Donate to help Peter Guiffra compete! All proceeds support the Montclair Public Schools.