Help Benjamin Masuzzo Compete in Showdown Montclair!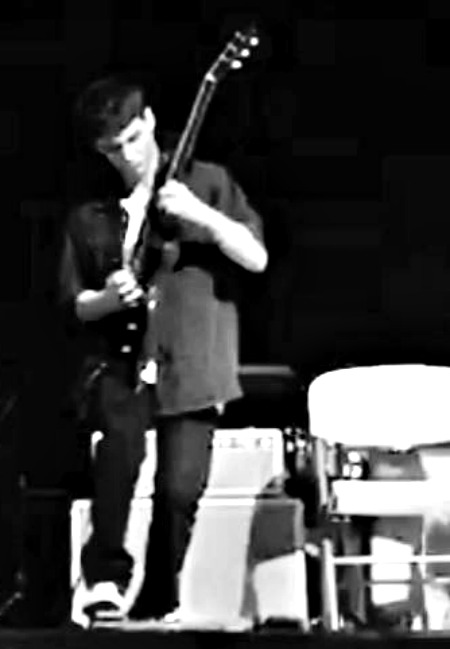 Benjamin Masuzzo
Move over Eddie Van Halen, this MHS sophomore can shred with the best of them.  Ben Masuzzo has been playing guitar since he could hold one in his lap.  He inherited his passion from music from his bass-playing dad, Dennis and his jazz-singing mom, Leslie (who teaches third grade at Hillside Elementary!)  When he's not playing guitar, Ben is pursuing his other passion, baseball.  Whether it's on the field or on the stage, Ben is fun to watch.
Joining Ben on the Showdown stage and taking care of the vocals will be his secret weapon (and his mom) Leslie Masuzzo, 3rd grade teacher at Hillside Elementary School! Family friend Tony Suarez will accompany on bass and MHS Senior Andrew Braithwaite will play drums! Don't miss Ben, and family and friends, on the Showdown stage!
We have raised
$1,700.00
of our goal.
Shout Outs to Benjamin Masuzzo!
$100: Break a leg (not a string)! -- Leslie Masuzzo
$40: Good luck Ben! -- Love, The DeAgazios
$50: Rock on, Fenderbender! -- Love Aunt Suz
$25: Good luck Benjamin! -- Allison Gehlmeyer
$25: You rock! - The Ryders
$100: Dennis Masuzzo
$75: You're gonna kill it! -- Jackson
$25: Have a great time Benjamin!! -- Laurene Barbalinardo
$25: We appreciate your efforts! -- David Oscar
$300: Jason Schroeder
$25: Rooting for you! -- Hester Farabee
$25: Go Benjamin!! -- Aliza & Ciaran Mattenson/Kinsella
$25: Piedad Gutierrez
$25: Go Benjamin! -- Monica Minore
$25: We have heard so much about you Ben! Can't wait to see you perform! Break a leg up there! -- Amy Dallmann
$20 (MATCHED): Montclair Orthodontics
$50 (MATCHED): Can't wait to hear Ms. Masuzzo and family! -- Lisa Andersen
$20 (MATCHED): Philip Haws
$200 (MATCHED): Go Benjamin! -- Lynn, Paul, Ian & Noah
$200 (MATCHED): Have fun Leslie and Ben! -- Emily Rosenblum
$50 (MATCHED): Best to Mrs. M and you Ben! - love, Sam Reich
$100 (MATCHED): Good Luck! -- Vesna Zivkov
Donate to help Benjamin Masuzzo compete! All proceeds support the Montclair Public Schools.