Congratulations to Claudia for winning the Showdown Montclair 2018 People's Choice Award!
Help Claudia Nketia Compete in Showdown Montclair!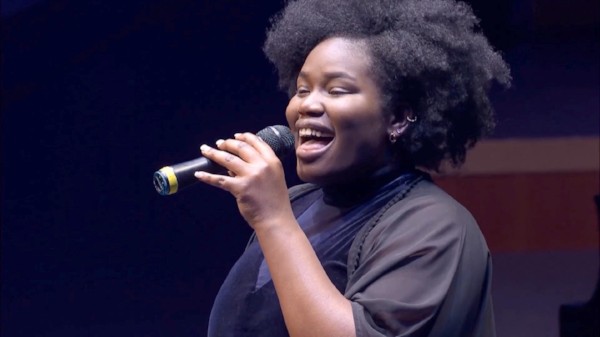 Claudia Nketia
Be prepared to see Claudia's name in lights soon.  This versatile powerhouse singer can belt out jazz, classical, and hip hop tunes better than people twice her age.  Claudia started singing at an early age, and she sang her way through Rand/Bullock, Glenfield and Montclair High School.  Two years ago, Claudia received the opportunity of a lifetime when she was selected to attend "Grammy Camp" in California.  The intense week-long experience not only gave her incredible training, but it also allowed her to perform on the red carpet and in a promotional video that aired on Entertainment Tonight.  It also whet her appetite to return to the red carpet as a Grammy nominee in a few years!
Claudia is a member of MHS's acapella singing group, Passing Notes, and she is active in MHS's School of Visual and Performing Arts (SVPA).  She's excited to support the schools that have given her so much.  
You're in for a real treat with Claudia's performance, but first she needs your help to get to the stage. Donate today, so that you can hear one of Montclair's finest rising stars!
We have raised
$955.00
of our goal.
Shout Outs to Claudia Nketia!
$50: LOVE your music! - Stephanie Fitzgerald
$25: Claudia is an amazing talent!! -- Leslie Masuzzo
$75: Break a Leg Claudia! - Bobby and the Axelrods
$20: I'm a Passing Notes fan and wish you all the luck in this and your future goals! -- Gay Kasegrande
$50: Good luck!!! -- Vesna Zivkov
$25: You GO, Claudia... Your voice is like Honey!! -- XOX the Herrick family
$50: Go Claudia! -- From the Carmichael family
$50: We appreciate your efforts -- David Oscar
$150: Go Claudia! I know you'll kill it! -- Betsy Harris
$275: You and Ella, Claudia! -- Mary Beth & Andrew Rosenthal
$25: Claudia--You're superlative & will light up that stage! xo & hugs -- The Stepansky family
$50: Claudia, you're a star! -- Charley and the Polaners
$20 (MATCHED): Montclair Orthodontics
$20 (MATCHED): Philip Haws
$50 (MATCHED): You sound Amazing!!!!! -- Dawayne, Stephanie and Savannah Roberts
$20 (MATCHED): Good luck! -- Beryl Steinbach
Donate to help Claudia compete! All proceeds support the Montclair Public Schools.