Congratulations to Lia for winning the Montclair's Hidden Talent Gem Showdown Montclair 2018 Award!
Help Lia Flannery Compete in Showdown Montclair!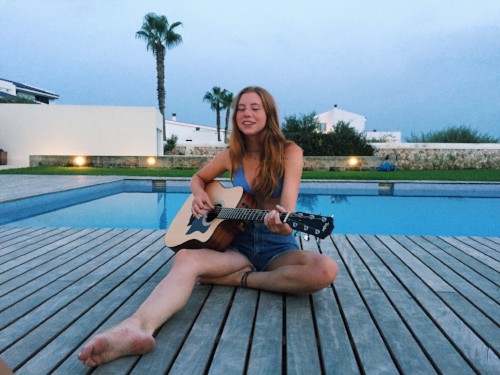 Lia Flannery
Lia Flannery is an MHS Senior and has been singing since she could talk.  As the youngest of four in a non-musical family, Lia carved her own path. She's not only a talented musician and singer, but she's a skilled songwriter who creates all of her own material.  
Lia moved to Montclair from Chicago as an 8th grader, landing at Buzz Aldrin Middle School. As tough as it was to leave her large extended family and friends, Lia loves Montclair, and is sad to be on the brink of now leaving it for college.
When she's not recording new jams, you can spot her on her tandem bike singing with friends around town.
Support Lia as she bravely takes the Showdown Stage!
We have raised
$1,650.00
of our goal.
Shout Outs to Lia Flannery!
$100: Way to go, Lia!!! Can't wait to hear your amazingly beautiful voice! Thanks for supporting MFEE! -- Valerie & Jim Uehlinger
$75: Go Lia! Break a leg! -- Jeanie Givens
$25: Lots of luck to you Lia! -- Maisie Hanrahan
$75: You're awesome, Lia! -- Albert Chu
$25: You rock Lia!! -- xo, Jana and Emile
$40: Hope we get to hear a recording of this! We love your voice! -- XO The Connellys
$75: Break a Leg, Lia! - The Axelrods
$50: I don't want to take away from your natural talent, but I have to think all those carpool rides listening to Scribble Monster were a good influence! -- Lisa Birmingham
$75: Go get em Lia! -- Nancy Silverman
$25: We appreciate your efforts! -- David Oscar
$50: You go girl! -- Hillary Jaffe Reimnitz
$750: "Sweet Child of Mine" -- Millie & Hugh Flannery
$75: Go Lia! 10th grade forever! -- Eli Kline
$50: Sarah and JD Dwyer
$20 (MATCHED): Montclair Orthodontics
$100 (MATCHED): Way to go Lia, love Julia and the whole Colen Family; we are all such big fans!!
$20 (MATCHED): Philip Haws
Donate to help Lia compete! All proceeds support the Montclair Public Schools.