Help Ward's Wards Compete in Showdown Montclair!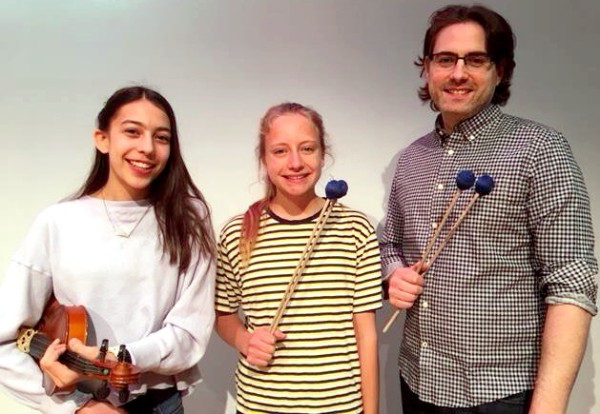 Ward's Wards
Glenfield Middle School Music Maestro, Jonathan Ward has the superhero ability to teach hundreds of students everything from jazz tunes to orchestral music.  And if you've seen his shows, he also nurtures some budding comedians!
Mr. Ward is proudly taking the stage with a few of his students who'll represent the legions of young musicians that Ward has nurtured along the way.  Ward and our district's team of music teachers give our kids an incredible gift, and your donations help MFEE enrich their work. 
Support this magical music teacher and arts programming in our schools with a donation to their act!
 
We have raised
$1,700.00
of our goal.
Shout Outs to Ward's Wards!
$25: Montclair is so fortunate to have John Ward on its staff. As a former teacher, we were always challenged trying to individualize the curriculum to our students in one subject matter. John always AMAZED me how he individualized instruction to almost 75 students on multiple instruments every final period of the day. I encourage you to witness one of his shows! -- Gerard Belmonte
$25: Maria Buck
$25: Melissa Klurman and Ken Dowell
$25: We appreciate your efforts! -- David Oscar
$10: Mr. Ward makes middle school concerts a joy to attend! -- Chanda Hall
$100: Mr. Ward is the best -- go get 'em! --Marzulli Family
$20: Thank you for all your impressive work and good luck in the Showdown! -- Aimee and David Brooks
$20: We are so lucky to have this incredible music teacher in Montclair Public Schools! My third child is currently at Glenfield, and my first (who graduated from Juilliard) recently said, "I want to teach, like Mr. Ward." -- Rebecca Harris-Lee
$25: Ward's Wards are gonna rock for Glenfield! Can't wait for the Showdown!! -- Jennifer Caldarella
$100: Once a Ward fan always a Ward fan! -- Deb and Matt Garrison
$50: Fondest memories of Mr Ward and the wonderful music education AND appreciation he brought to all of 3 of our sons! -- Risa and Sol Bernstein and Family
$200: Mr. Ward is a teacher that truly changes lives. May Ward's Wards win an award!--from the eternally grateful family of one of his previous wards. 
$75: Go Wards!! -- The McDonald Family
$25: Rock it, Ward's Wards! -- Lauren Rosen
$50: We heart Mr. Ward!!! Go get 'em! -- Becker Family
$25: Best Middle School Band Director Ever. -- LeAnne Korbel
$50: Rock on! -- Meredith Nahra
$100 (MATCHED): Parker Robinson
$20 (MATCHED): Montclair Orthodontics
$100 (MATCHED): For how proud I felt when Stella heard Nina Simone's "Feeling Good"...and said..."we played this song" ..thank you -- Dennise Tapia
$60 (MATCHED): Go Ward's Wards! -- Amber Gilbert
$200 (MATCHED): Ward and his Wards ROCK! -- Camilla Seth
$200 (MATCHED): Rock on Mr. Ward, Chloe and Layla! -- Michelle Kennedy
$100: Have great night - Ward's Wards - Chloe & Layla!!
Donate to help Ward's Wards compete! All proceeds support the Montclair Public Schools.