Help Crazy Cruisers Compete in The Amazing FundRACER!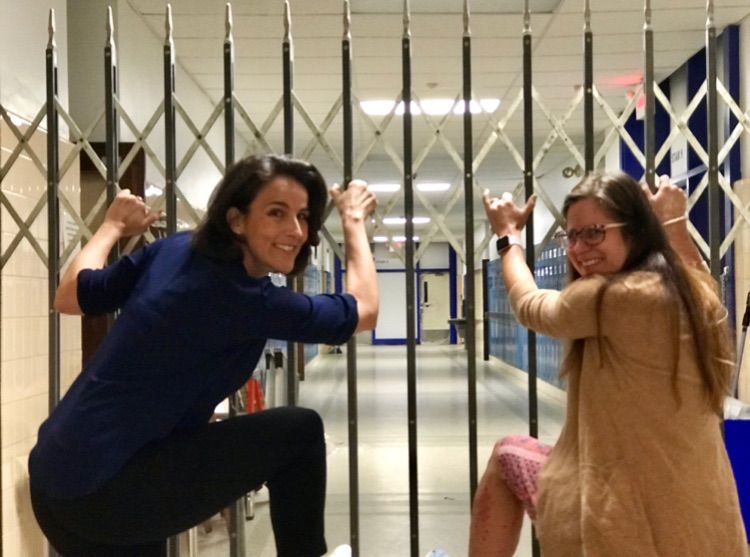 The lack of stairs at MHS might have tipped these two over the edge, and now they're just a couple of Crazy Cruisers looking to express some pent-up energy in the Amazing FundRACER!  
MHS English teacher Jessica Buel and US History teacher Kaitlin Schulz are insanely good teachers and athletes.  Buel, a former rower, and Schulz, a decorated gymnast, have the brains and the brawn to outwit and outlast the other racers.  
These two are no strangers to MFEE Fundraising events. Buel valiantly Lip Synced battled with her English teacher colleagues in last year's Showdown Montclair and Schulz gave a gutsy performance in MFEE's inaugural FundRACER in 2016.  Rest assured -  these Crazy Cruisers will drive the other teams insane!
Help unleash the Crazy Cruisers into the FundRACER!  Donate to them today.  
Help Crazy Cruisers raise the minimum of $500 to compete! For every additional $125 that they raise, they'll get a LegUP -- a special coin that buys a clue, an advantage, or an opportunity to gently sabotage another team in the race.  While teams can't buy their way to victory, a few LegUPs can give teams a nice boost!
We have raised
$735.00
of our
$500.00
goal.
Shout Outs For Crazy Cruisers!
Kathy Schulz, $100
Amanda McDougall, $25
"Go for it ladies!" ~ Linda & Tom Buel, $100
"Let's do it!" ~ Jessica Buel, $100
"We've got this!" ~ Kaitlin Schulz, $100
Anne Baney-Giampoala, $25
"Go Team!" ~ Shana Stein, $60
Mary Beth Rosenthal, $125
"Love your school spirit!" ~ Beryl Steinbach, $100 (MATCHED)
---
Donate to help Crazy Cruisers compete! All proceeds support the Montclair Public Schools.