Help Crew of 2.0 Compete in The Amazing FundRACER!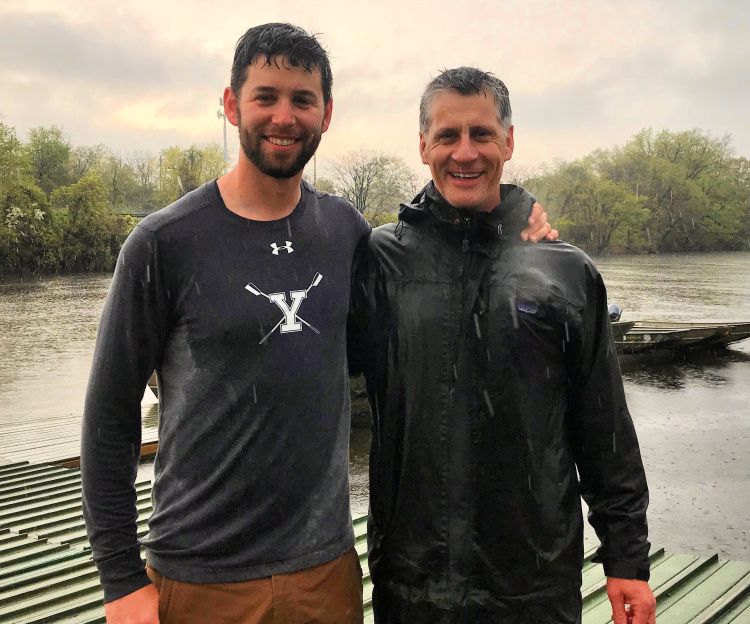 Meet Crew of 2.0!
Hold on to your hats…and your water balloons. This crew is new and improved and ready to take the crown after their heartbreaking, nail-biting, last-minute defeat in The Amazing FundRACER: The Sequel in 2017. When Crew of 2 dropped their water balloon just inches from the finish line, we never thought we'd see them return.
But Montclair High Varsity Crew Coach Jeremy Michalitsianos has dug deep and brought in the big guns to row them to the medal podium.  
His new partner, Nate Goodman, is not only his former MHS Varsity Crew Captain (Class of 2013), but he's also a bit of an athlete. He's a member of the US Men's National team, and a star rower at Yale, winning several medals in elite competitions, including the National Championships in 2017 and the prestigious Ladies Challenge Plate at Henley Royal Regatta in England. Nate has named his coach, Jeremy, as the most influential person in his rowing career, and his 5th grade Hillside teacher, Alan Elder, as his personal hero.
Athletic, good chemistry, and a score to settle - Crew of 2.0 may drown the competition.  If they can only hold on to those water balloons…Donate to them today!
Help  Crew of 2.0 raise the minimum of $500 to compete! For every additional $125 that they raise, they'll get a LegUP -- a special coin that buys a clue, an advantage, or an opportunity to gently sabotage another team in the race.  While teams can't buy their way to victory, a few LegUPs can give teams a nice boost!
We have raised
$1,040.00
of our
$500.00
goal.
Shout Outs For Crew of 2.0!
"Make us proud, Coach!" ~ Amy Barnett, $50
"Best of luck!" ~ Katrina Stamas, $25
"Amazing coach, team, and legacy! Make more history!" ~ Christine James, $100
"Erg..." ~ Loretta larkey, $25
"Good luck" ~ Ted Wilson, $50
"Go get 'em!" ~ The Vecchiones, $50
"Don't hurt yourselves!" ~ Rebecca and William Goodman, $50
Arquisha Moreno, $75
"Good luck!" ~ The Loewys, $50
"Good luck from me and the traitor! (Liam)" ~ Alex Rougebec, $50
"Good luck!" ~ The Kaplans, $60 (MATCHED)
"Good luck" ~ The Cahills, $50 (MATCHED)
"Good luck!" ~ The Frank Family, $100 (MATCHED)
"Good Luck!" ~  The Smith Family, $50
"Go Crew of 2!" ~ Karen & David Vrotsos-Rogers, $50
"Go Get Em!" ~ Patti and Chuck, $100
"Way to Jeremy! The Murphy-Heck crew is cheering for you!" ~ Mercedes Murphy, $80 (MATCHED) 
---
Donate to help Crew of 2.0 compete! All proceeds support the Montclair Public Schools.