Help Glenfield Gladiators Compete in The Amazing FundRACER!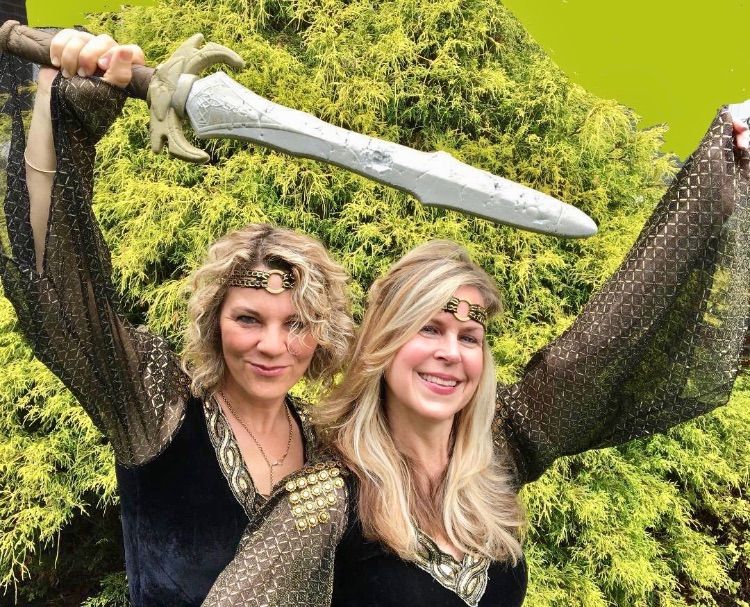 IT. IS. ON, racers! Patty Bendena and Janita Douglas have donned the gowns and pulled out the swords, ready to prove that these warriors have what it takes to slay this race. Channelling a little Arya Stark and a little Isis (with those cool headbands), these two won't let anyone stand in their way.  (And with the size of that sword, you may want to steer clear of them on their bikes). 
The Glenfield Gladiators cannot wait to represent their school, with three kids there between them. As mom to an MHS senior, Patty may give her MHS opponents a little slack. Help these Gladiators enter the ring! 
Help Glenfield Gladiators raise the minimum of $500 to compete! For every additional $125 that they raise, they'll get a LegUP -- a special coin that buys a clue, an advantage, or an opportunity to gently sabotage another team in the race.  While teams can't buy their way to victory, a few LegUPs can give teams a nice boost!
We have raised
$1,120.00
of our
$500.00
goal.
Shout Outs For Glenfield Gladiators!
"We're rooting for our favorite Gladiators!!! You've got this!!!!" ~ Michael & Irene Kostrzewa, $50
"Go Ladies!! We love the outfits! Xo!" ~ Kimberley and Craig ~ $50
"Love. Your. Style." ~ Christina Axelrod, $25
"Go get em gals" ~ Pam Koep, $25
"Let's do this my favorite Gladiators!! You are the best, you have got this!!!" ~ Meyrick Douglas, $250
"Go get 'em Gladiators!" ~ Corinne Smithen, $50 (MATCHED)
"Go Gladiators! You are fierce! Win the crowd and you shall certainly win the day! (It's a Gladiator thing...) See you at the finish line. Go get 'em!" ~ Race Taylor, $200 (MATCHED)
"Go Gladiators! You will slay this!" ~ Jennifer Caldarella, $50 (MATCHED)
"Have a Wheel-y good time in these efforts!" ~ Laura Stroup, $20 (MATCHED)
"Definitely the most glamorous --and medieval--team racing, good luck Glenfield Gladiators!" ~ Elena Tapper, $25
"Here's to a leg up!!!!! Well, not yours but you know what I mean! Go get'em!!!!!" ~ Jo Mathisen, $125
"Best of luck to you guys!! Knock 'em dead!" ~ Aleta Guzik, $30 (MATCHED)
"Victory is yours! Good luck, Gladiators!" ~ Alexa & Paul Narkunas, $200 (MATCHED) 
"Go Glenfield!" ~ The Gilmores, $20 (MATCHED) 
---
Donate to help Glenfield Gladiators compete! All proceeds support the Montclair Public Schools.