Help Little Bears on Bikes Compete in The Amazing FundRACER!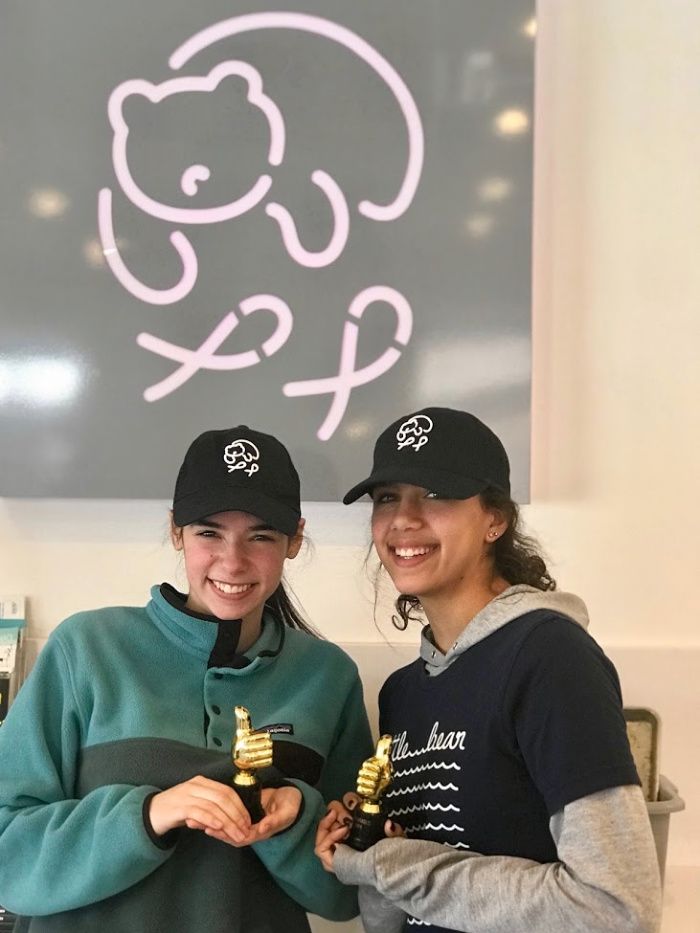 Racers beware! These little bears might look sweet and cuddly, but they're cut-throat competitors with bear-y many skills. MHS senior Lily Bryan and MHS junior Mia Rodriquez-Vars have been Little Bear employees since it's founding one year ago, and they are proud to be representing Montclair's original Poké restaurant.  
Their ability to slice up fresh fish, assemble delicious and beautiful bowls, and whip up refreshing shaved ice, while flashing big smiles to their customers, will serve them well on this race. Don't cross them though - you don't want to see their grizzly side.
Help Little Bears on Bikes get to the starting line! Donate today!
Help Little Bears on Bikes raise the minimum of $500 to compete! For every additional $125 that they raise, they'll get a LegUP -- a special coin that buys a clue, an advantage, or an opportunity to gently sabotage another team in the race.  While teams can't buy their way to victory, a few LegUPs can give teams a nice boost!
We have raised
$1,455.00
of our
$500.00
goal.
Shout Outs For Little Bears on Bikes!
"I better be getting some good odds on this bet" ~ Ben Vars, $25
"Ya know what goes great with poke? WINNING. We are so proud of our little bears! Have fun, stay safe and BRING IT HOME!" ~ Bridget and Dave, $250
"Calling it now - the winning team! Good luck!!!!" ~ Noelle Hozumi, $100
"A special friend once told his favorite bear: "You're braver than you believe, stronger than you seem, and smarter than you think." - Christopher Robin" $200 (MATCHED)
"MY BFFS YAYYAYAYAYAY. they will 100% win." ~ Ariel Ingersoll, $40 (MATCHED)
"This is the winning team -- they're bear-y good! We're so proud of you!" ~ Greg and Anne, $200 (MATCHED)
"Go Mia, Dale Ganas!!!!" ~ Maria Martinez, $100 (MATCHED)
"Mia do your stuff and show them what you are made of!!!!!!!" ~ GPa, $100 (MATCHED)
"Go Mia!! Your primas from San Antonio are cheering you on. We know you can do it. ¡Échale Ganas, mija!" ~ Love, Sandra and Nori, $40 (MATCHED)
Maggi Aaronson, $200 (MATCHED)
"Go all the way, Little Bears on Bikes!" ~ Freda and Charlie Vars, $200 (MATCHED)
"Ponte las pilas!" ~ Teresa Burton, $200
---
Donate to help Little Bears on Bikes compete! All proceeds support the Montclair Public Schools.