Help Sister Sleuths Compete in The Amazing FundRACER!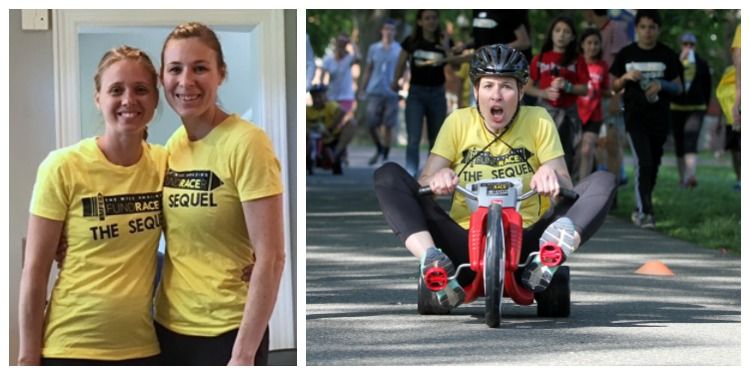 We're sisters and two MPS employees back to raise some cash for a great cause!
MFEE has helped so many students and staff throughout the schools and we couldn't think of a better organization to support. We've dusted off the bikes, readied our bellies for some crickets, and mastered the art of putting big wheels together! Help us get to the top again and bring home the gold!! We are so appreciative of any donation amount and will make you proud!! Team Sister Sleuths!!!
Help Sister Sleuths raise the minimum of $500 to compete! For every additional $125 that they raise, they'll get a LegUP -- a special coin that buys a clue, an advantage, or an opportunity to gently sabotage another team in the race.  While teams can't buy their way to victory, a few LegUPs can give teams a nice boost!
We have raised
$5,190.00
of our
$500.00
goal.
Shout Outs For Sister Sleuths!
Christina Axelrod, $25
"Good Luck Sister Sleuths!" ~ Christina Sparacino, $50
Kalyn Jahansouz, $50
Margot Baugher, $50
"You guys are awesome, we love you!" ~ Kim Rayner, $100
Melinda Krecidlo, $50
"Good luck ladies!!!" ~ xo Amanda Schneider, $50
"Best of luck and thx for doing all you do for Montclair!" ~ Ruthelyn Elkin, $25
"Great job Hil and Meg!" ~ Carrie Jankowski, $20
"Go Girls! Your strength will get you to the finish line." ~ Kristine Latorra, $25
Carolyn  Jochem, $25
"Proud of you Sleuth Sisters! Do your magic!" ~ Gail Derivan, $20
"Rooting For Team Sister Sleuths!" ~ Eileen Costello, $25
Noemi Giszpenc, $25
"Go ladies go and have fun!!" ~ Phyllis Lowenthal, $25
"No luck needed here, it's in the bag!! Get 'em girls!!" ~ Marissa Donovan, $20
"Have a great race!" ~ The Smith-Freitag Family, $20
Deirdre Birmingham, $20
"First place here you come. Livin' my dream!" ~Kathleen Matson, $100
"This is your year!" ~ Kathy Maloy, $50 (MATCHED)
"Good Luck!!! I know you are going to do AWESOME!" ~ Patrick Krenn, $60 (MATCHED)
$50 (MATCHED)
"Sister Power!" ~ Drury Thorp, $25
Sarah Paulsen, $25
"Good luck Sister Sleuths!!" ~ Perruzzi Family, $25
"Go For the Line You 2 and Enjoy the After Party!!!" ~ Sue Hand, $50
Allison Oishi, $50
"Good Luck!" ~ Tricia Garrubbo, $100
Audrey   $20
Ravan    $25
Katie      $50
Michelle $5
Anonymous, $75
"Go! Go! Go!" ~ Conor and Rowan DeSantis, $50
"You go girls!!" ~ Robbie Lazarus, $30
"Good luck to the new team! You will be hard to beat!" ~ Kathleen Matson, $200 (MATCHED)
"Glad to see Matt filling in for Hilary! What a good sport!" ~ Ellen Smith, $50 (MATCHED)
"You GO, Sister/Brother-In-Law Sleuths!!" ~ Brittany O'Neill, $50 (MATCHED)
Sister Sledge, $500
Beyoncé and Solange, $500
The Kardashian sisters, $500
Mary-Kate and Ashley, $500
Venus and Serena, $500
Marcia and Jan, $500
Malia and Sasha, $500
"Way to GO and Have Fun! Thanks for doing the Race!" ~  The Larkins, $75
---
Donate to help Sister Sleuths compete! All proceeds support the Montclair Public Schools.