Help Team Fuego Compete in The Amazing FundRACER!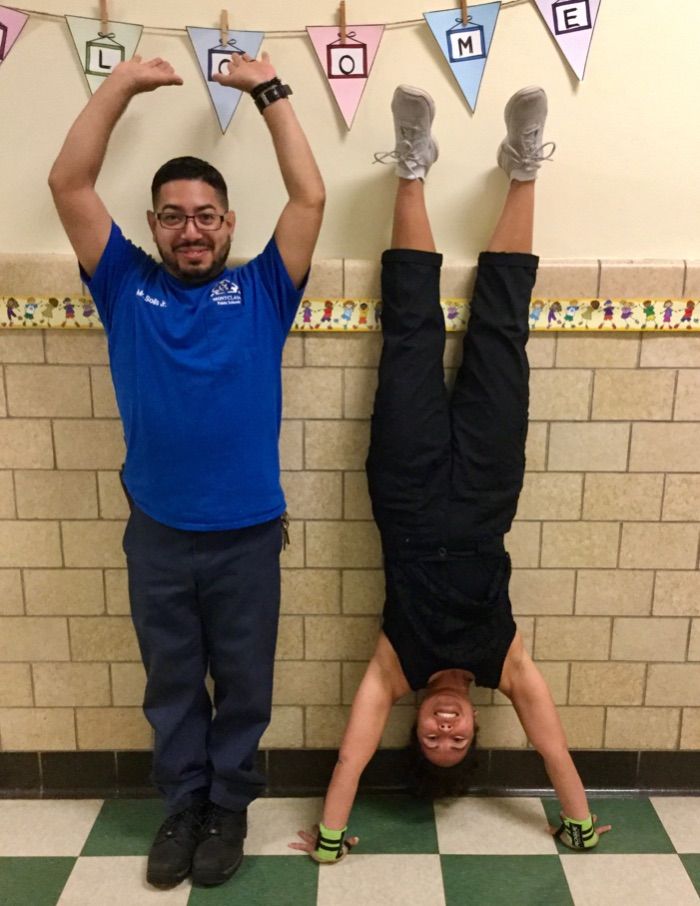 This race is heating up!  Team Fuego is on fire ready to represent Northeast School!  
This is OUR FIRST EVER representative from the Buildings and Grounds department, and we could not be more excited to have Luis Solis, Jr. represent the dedicated, tireless staff who keep our buildings humming.  His fiery partner is none other than Special Ed teacher Judy Alday, who has volunteered or participated in EVERY SINGLE MFEE event for the last three years.  You'll remember her stellar lip-sync battle in last year's Showdown Montclair!
Judy was one of the first people who tried to enter the inaugural FundRACER, but was sidelined because of her inability to ride a bike. She's still working on mastering the bike-riding skills, but she is so determined to FundRACE that she'll be competing on a three-wheel bike, a scooter OR riding "side-cars-style. " 
NOW if this doesn't inspire you to give to this team full of heart, we're not sure what would.  Help keep Team Fuego's flame's burning strong.  Please donate to this exceptional team today!
Help Team Fuego raise the minimum of $500 to compete! For every additional $125 that they raise, they'll get a LegUP -- a special coin that buys a clue, an advantage, or an opportunity to gently sabotage another team in the race.  While teams can't buy their way to victory, a few LegUPs can give teams a nice boost!
We have raised
$965.00
of our
$500.00
goal.
Shout Outs For Team Fuego!
"Yay! Good Luck!!!" ~ Soo Najarian, $25
"Go NE!!!" ~ Sara Ferry, $25
"Yay, Ms. Alday and Mr. Luis!" ~ Nancy Politi, $25
"Yay Ms. Alday and Mr. Solis!!! You both exemplify the best of NE!!" ~ Alexis Dudley, $25
"Love this! Judy, this is your year! Good luck guys!" ~ Bridget Placek, $10
"Go Team Fuego!" ~ Christina Axelrod, $25
"We'll be rooting for two of Northeast's favorite staff members! Seize the victory!!" ~ Natalie Sullivan, $50
"You rock!!!" ~ Cheryl Starr, $25
"Good luck Mr. Solis and Ms. Alday! NE is cheering you on. Thank you for all you do to support our students." ~ Erin White, $25
"Looking forward to seeing Team Fuego with Team Frog & Toad representing Northeast on the cover of Sports Illustrated next week." ~ Walter Swett, AKA the slower half of Team Frog & Toad, $50
"Congrats Ms. Alday and Mr. Solis. All the best with the fundraiser." ~ Suraj Paul, $200
Thomas Partyka, $10
David Oscar, $100
Matthew Russman, $25
"It's your time to shine, Judy Alday! Thank you for everything you do for our kids and MFEE!" ~ Bridget Placek, $150
"Thanks for supporting MFEE and our schools. Go Team Fuego!" ~ Emily Grand, $100 (MATCHED)
"Good luck! We'll be cheering for you!" ~ Julie Clemens,  $50 (MATCHED)
---
Donate to help Team Fuego compete! All proceeds support the Montclair Public Schools.