Help Team Make Montclair Great Again...Again Compete in The Amazing FundRACER!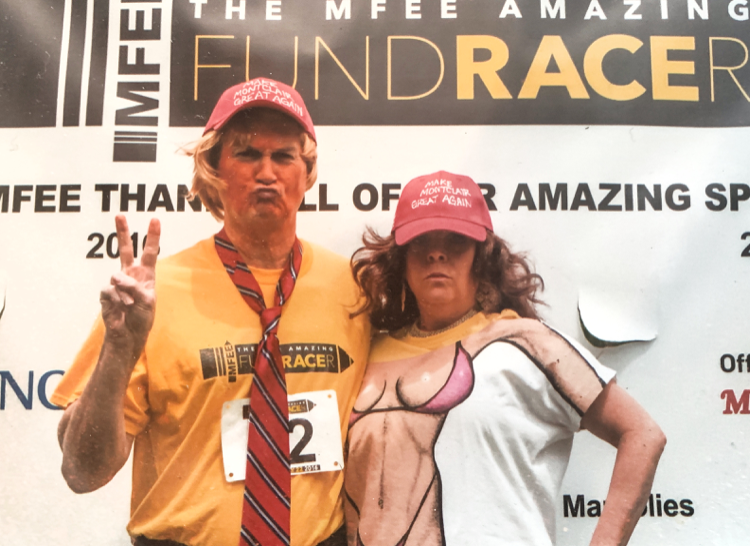 We're back! We are the most successful Team to ever compete in The MFEE Amazing FundRACER, by far. Nobody's ever been more successful than us. We will cheat, lie, lie, cheat and lie about cheating to win!!! Fake news.
Help Team Make Montclair Great Again...Again raise the minimum of $500 to compete! For every additional $125 that they raise, they'll get a LegUP -- a special coin that buys a clue, an advantage, or an opportunity to gently sabotage another team in the race.  While teams can't buy their way to victory, a few LegUPs can give teams a nice boost!
We have raised
$595.00
of our goal.
Shout Outs For Team Make Montclair Great Again...Again!
"I tried to photoshop your head onto the crew team, but I got caught. Guess you have to get your legs up the honest way. GO MMGA (mmmmmmmga)" ~ Jennifer Caldarella, $75
"Good luck winning the race! I hope those bone spurs don't slow you down!!" ~ Christina Clarke, $100
Margaret Percival, $25 
"You guys got this!" ~ Lisa Frank Arata, $50
"Montclair is better because of you. Now go eat some crickets and bring home the gold." ~ Sarah Spagnola Young, $25
Jayna Neagle, $25
Christina Kelly, $25 
Bridget Placek, $20
Ann Brown, $50 (MATCHED)
"Hey Pops! I'm donating to your team but I can't make the race because I'll be busy in Russia working on 2020 for you" ~ Jared Kushner, $105
"If anyone can #MMGA, it's you guys!" ~ Aleta Guzik, $20
---
Donate to help Team Make Montclair Great Again...Again compete! All proceeds support the Montclair Public Schools.