Help Team TWSS Compete in The Amazing FundRACER!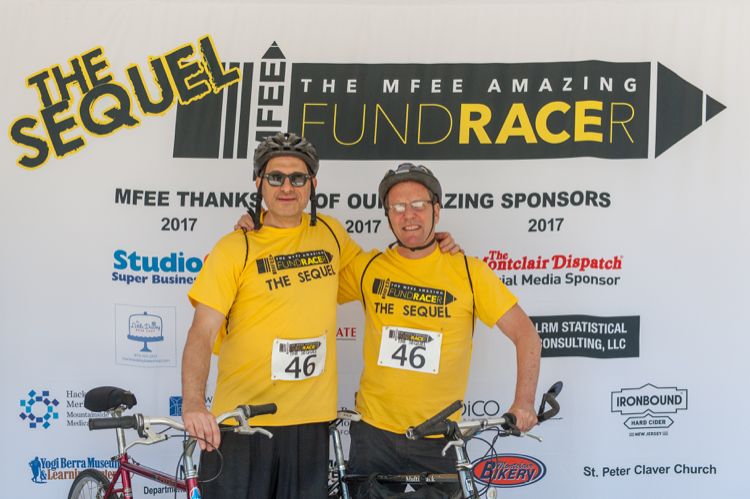 We're Rob Rubin and Ray Hoffman (Team TWSS - That's What She Said), and we hope you'll donate to our team. Rob has a daughter in 10th grade and a son in 8th grade at Renaissance. Ray a daughter in 9th grade at MHS.
In the last Amazing FundRACER, we placed 7th by eating scorpions, overcoming teams communicating with advance scouts and ultimately, losing by sabotage. We're still sore (TWSS) and looking for revenge.
This year, we're bringing a little extra (TWSS), not just because we want to help MFEE's efforts to provide innovative programs, resources, and support for our kids' education, but because we want to win (TWSS).
Help Team TWSS raise the minimum of $500 to compete! For every additional $125 that they raise, they'll get a LegUP -- a special coin that buys a clue, an advantage, or an opportunity to gently sabotage another team in the race.  While teams can't buy their way to victory, a few LegUPs can give teams a nice boost!
We have raised
$1,101.00
of our
$500.00
goal.
Shout Outs For Team TWSS!
"Way to go team TWSS! Thanks for doing this!" ~ Erin Schwitter, $50
"Have a good run Cuz" ~ Jane Present, $100
"Go ray ray!" ~ Yana Rodin, $20
"Best of luck - I'm sure you'll do well!" ~ Linda Sackett, $75
"Go TWSS!" ~ Kathy Bartlett, $25
"Our two favorite crazies!" ~ xo Amanda & Gregor, $25
"Go git 'em, TWSS Bros!" ~ Richard Rubin, $25
"Another cuz on your team!" ~ Diane Krakower, $36
"May your retaliatory spirit take you far..." ~ Tim & Hinde Donovan, $100
"Thanks for doing this. We know you got this." ~ Jenny & Michael Solomon, $25
"Go Team!" ~ Anita Weiss, $20
"Go TWSS TEAM Go..... You CAN do it...." ~ Cathleen Markland, $25
"Ride ON! Thank you for you sweat!" ~ Mark Robinson, $25
"TWSS is the Best: ~ Bill Hoffman, $25
"Go Ray!" ~ Karl Lankenau, $25
"Good luck and have fun!!!" ~ Amanda Wildman, $20
"We are routing for you!!!!" ~ Kristin and Keith Mackay, $25
"Have a great ride :)" ~ Beth Prevor, $50 (MATCHED)
"Good luck!" ~ Heather Rossi, $50 (MATCHED)
"Go Ray Go!!!" ~ Dylan Geil, $50 (MATCHED)
"Go Team TWSS!" ~ Peggy Hoffman, $35
RR, $250
"WOOO!" ~ Yda Zamora, $20
---
Donate to help Team TWSS compete! All proceeds support the Montclair Public Schools.