Help The Boys in Blue Compete in The Amazing FundRACER!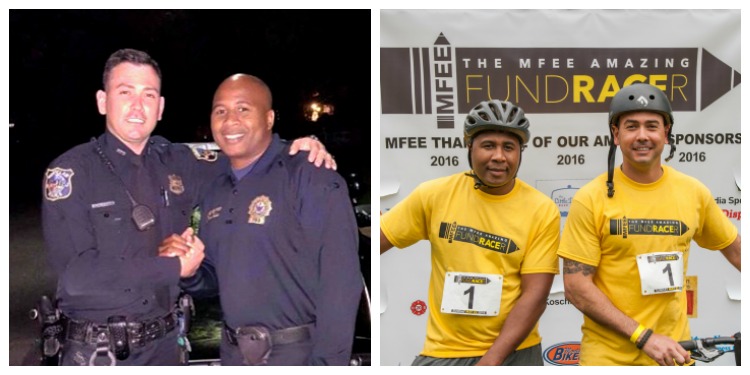 The Boys in Blue are BACK for the third time to compete in the MFEE Amazing FundRACER!  
MHS Alums Scott McGrath (class of 2000) and Pierre Falaise (class of 1995) have represented Montclair for over 20 years! After graduating, Scott served in the US Marine Corp from 2002-2008. He also served in the Iraq war. Following his service, Scott returned to Montclair where he joined The Montclair Police Department in 2010 to serve as a Boy in Blue.
Pierre has been with the Montclair Police Department since 2001. He's currently a Detective with the Montclair Police Department and Coach for the Monclair Rec Wrestling.
These two have teamed up to take on all challengers. The Boys in Blue run MTC. They're looking to make everyone else Blue.
Help The Boys in Blue the minimum of $500 to compete! For every additional $125 that they raise, they'll get a LegUP -- a special coin that buys a clue, an advantage, or an opportunity to gently sabotage another team in the race.  While teams can't buy their way to victory, a few LegUPs can give teams a nice boost!
We have raised
$250.00
of our goal.
Shout Outs For The Boys in Blue!
"Good luck!" ~ Christina Kelly, $50 (MATCHED)
"Thank you Boys in Blue for Going Blue!" ~ Jennifer Caldarella, $40 (MATCHED)
"Go Officer Falaise! Good luck Team Blue!" ~ Susan Sonneborn, $20
"Good luck Coach Pierre!!" ~ Joe McManus-Shortt, $50
Sarah Hatcher, $25
"Good luck from the 'ol hood!!" ~ Leila Loring, $25
"Thanks for your good work!" ~ Marie Falaise, $40
---
Donate to help The Boys in Blue compete! All proceeds support the Montclair Public Schools.