Help The Edgemontessorians Compete in The Amazing FundRACER!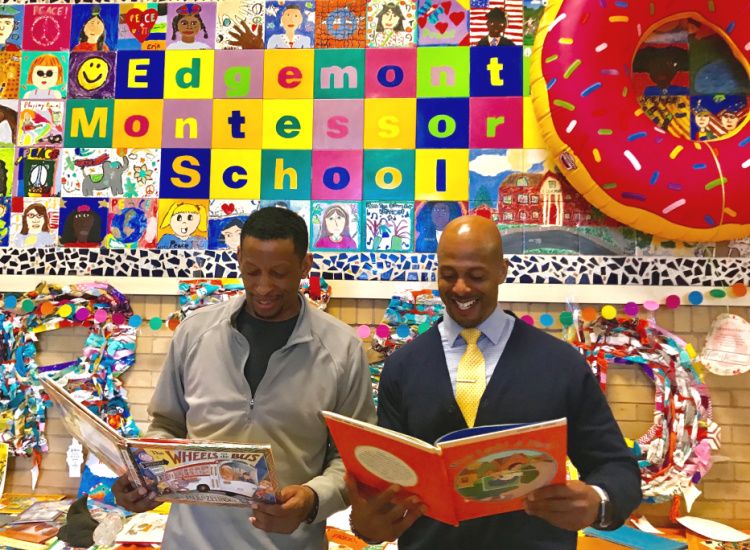 Montclair Principals and PE teachers, Edgemont Principal Jeff Freeman and PE Teacher Mr. Silvera have thrown down the gauntlet! They will boldly represent the land of rainbows and unicorns that is Edgemont elementary.
Don't let all those cute background colors and sweet faces fool you.These two have a fiery competitive side...although they'll likely spend more time cracking up the other teams. It's time to Shake-n-Bake! Donate to The Edgemontesorians and help them get to the starting line!
Help The Edgemontessorians raise the minimum of $500 to compete! For every additional $125 that they raise, they'll get a LegUP -- a special coin that buys a clue, an advantage, or an opportunity to gently sabotage another team in the race.  While teams can't buy their way to victory, a few LegUPs can give teams a nice boost!
We have raised
$800.00
of our
$500.00
goal.
Shout Outs For The Edgemontessorians!
"My colleagues are the best! Go Mr. Freeman and Mr. Silvera!" ~ Noah Gale, $72
"Crush it!" ~ Deborah Guzman Meyer, $50
"Represent! Good luck!" ~ Cie-Jai and Jen Carr Brown, $50
"Go team go!" ~ Dory Hack, $50
"Thank you Mr Freeman and Mr Silvera for racing for our kids. You rock!" ~ Karen & Deon Carter, $100
Vera's Dad Keith, $100
Anne E Baney-Giampoala, $25
"Good luck!"~- The Vecchione Family, $50
"You will win and you know it!!" ~ Smita Dharsi, $50
"Enjoy the After Party U2! Have FUN!!" ~ Susan Hand, $50
Keith Hall, $100
"Go Mr. Freeman! Go Mr. Silvera! Win for Edgemont!" ~ Sharon Richards, $25
---
Donate to help The Edgemontessorians compete! All proceeds support the Montclair Public Schools.