Help The Greatest Gales: The Sequel Compete in The Amazing FundRACER!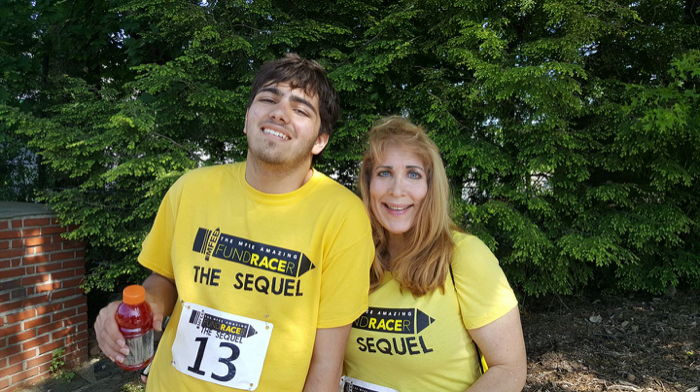 Noah Gale and his aunt Maddi competed in the MFEE Amazing FundRACER: The Sequel two years ago and they had such an outstanding and phenomenal time that they decided to compete again!
Noah graduated Montclair High School last June and is currently on his gap year volunteering at Edgemont School with kindergarteners and 2nd Graders. Next year, Noah will go to Montclair State University where he will major in Early Childhood Education and his dream is to be a Kindergarten teacher in the Montclair Public School district one day.
Maddi is excited to compete in The MFEE Amazing FundRacer 3.0 with her nephew Noah! 
Help The Greatest Gales: the Sequel raise the minimum of $500 to compete! For every additional $125 that they raise, they'll get a LegUP -- a special coin that buys a clue, an advantage, or an opportunity to gently sabotage another team in the race.  While teams can't buy their way to victory, a few LegUPs can give teams a nice boost!
We have raised
$603.00
of our goal.
Shout Outs For The Greatest Gales: The Sequel
Tom Rose, $50
"Love you!" ~ Steven Rosenblatt, $100
"All Hail the Gales!" ~ Melissa Schaffer, $36
"Here we go! We can do it! ~ Madeline Gale, $20
"Love you guys! Go be awesome!!!!" ~ Lori Greenlief, $50
"Go Gales!!! love, Lisa, Ben, Max, Sam and Jude" ~ Lisa Lippman, $72
Kendra A. Johnson, $25
"Go!!! Go!!! Go!!! Proud of both of you. ❤❤❤" ~ Reubena Spence, $25
"Go Gales!!" ~ Julia Kinstlinger, $75
"Good Luck" ~ Jamie Barnett, $50
"Go Maddi and Noah! Debbie and Dody support your efforts!" ~ Debra Taylor, $25
"Dylan, Caz, Jules & Lily will help with training!!" ~ Debra Cohen, $50
"For Noah Gale" ~ Candi Carter, $25
---
Donate to help The Greatest Gales: The Sequel compete! All proceeds support the Montclair Public Schools.