Help The Nish Compete in The Amazing FundRACER!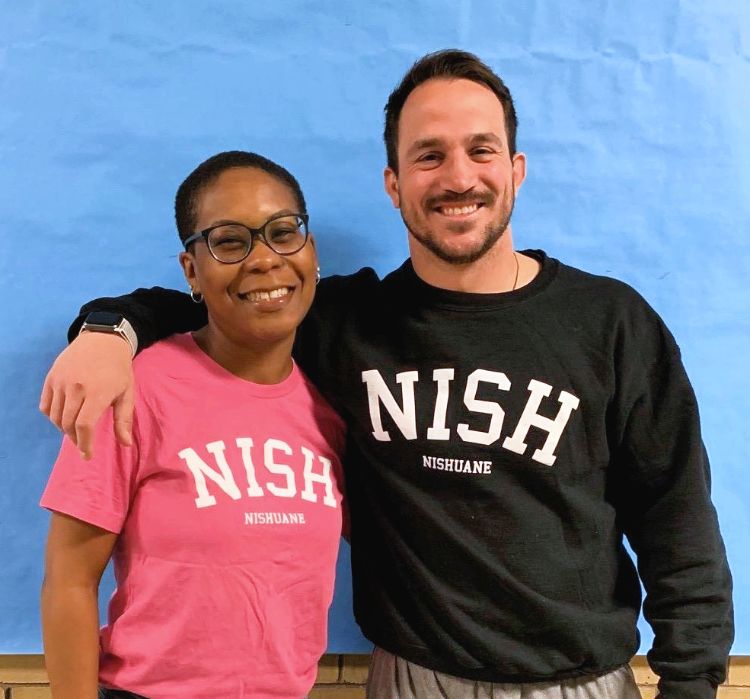 The Nish team is made up of 3 time Amazing FundRACER veteran Ivory Wise and first time racer Mike Risimini, who will dance around the competition! Together as  The Nish, this teacher team combines Ivory's artistic savvy and Mike's stellar strength to make them an unstoppable duo! 
Help The Nish raise the minimum of $500 to compete! For every additional $125 that they raise, they'll get a LegUP -- a special coin that buys a clue, an advantage, or an opportunity to gently sabotage another team in the race.  While teams can't buy their way to victory, a few LegUPs can give teams a nice boost!
We have raised
$1,082.00
of our
$500.00
goal.
Shout Outs For The Nish!
"Good luck to two of my favorite peeps!! You are a dynamic duo!!!" ~ Marissa May, $25
"Go Ivory and Mike! Way to represent the Nish! You got this :) " ~ Jill McLaughlin, $30
"You got this! The Halls will be cheering you on!" ~ Chanda Hall, $20
"WAHOOOOOO! Nishuane!!!" ~ Karen Andes, $25
"Hunter was super happy to see faces he knew pop up on my screen today. We are cheering you on. Go Nish!" ~ Kendra Johnson, $50
"Go Ms. Wise and Mr. Rismini! You are both incredible!" ~ Noah Gale, $100
"Go get 'em Team Nish!" ~ Cathy Grippi, $15
Justin Taylor, $25
"Go Nishuane!!" ~ Allison Silverstein, $25
"Good luck Ms Wise and Mr. Risimini! Go Nishuane!" ~ Obie Miranda-Woodley, $50
"Good Luck Team Nishuane!" ~ Jayden, Jamel, Noah Williams, $100
"You got this!!!" ~ Varsha Hathiramani, $25
"Go Team Nish!" ~ Katie Stamp, $10
"You got this Team Nish!! Make us proud!! Love Sadie, Betty, and Avi" ~ $50
"Go, Team Nish!" ~ Deirdre Birmingham, $20
"Kai is rooting for you!!! Thank you for competing to raise money for our schools even after everything else you do as our fabulous Nishuane teachers! The best!" ~ Bridget Placek, $15
"We wish The Nish to be top fish!" ~ Ellie Frankel and family, $100 (MATCHED)
"MS. WISE, WOO-HOO! "OWL" BE CHEERING YOUR TEAM ON! MISS YOU XOXO" ~ Susan Sonneborn, $10
"Go Team Nish!!!" ~ Amy Abel, $20
"Good luck Team Nish!" ~ Josie Williams, $50
"You can do this!!" ~ Joy Scally, $100
"Go Team Nish go!" ~ Julia, $25
"Go Team Nish! Good luck!" ~ Kai and Kenzo Placek, $60 (MATCHED) 
"Go Team Nishuane!" ~ Gaurang Shah, $100
"Go Team Nish!" ~ Kathleen Carroll, $10
Kyle Laracy, $50
---
Donate to help The Nish compete! All proceeds support the Montclair Public Schools.