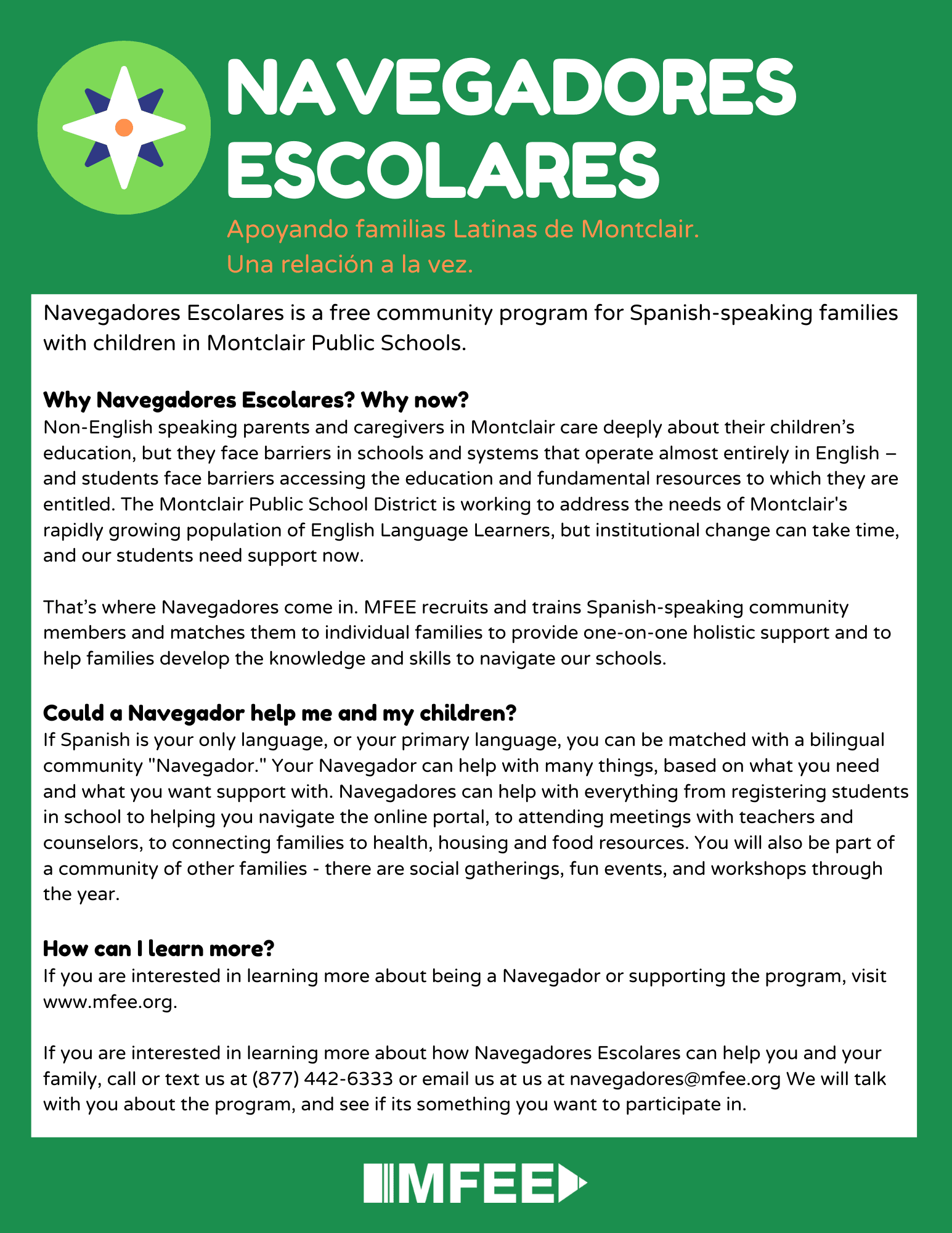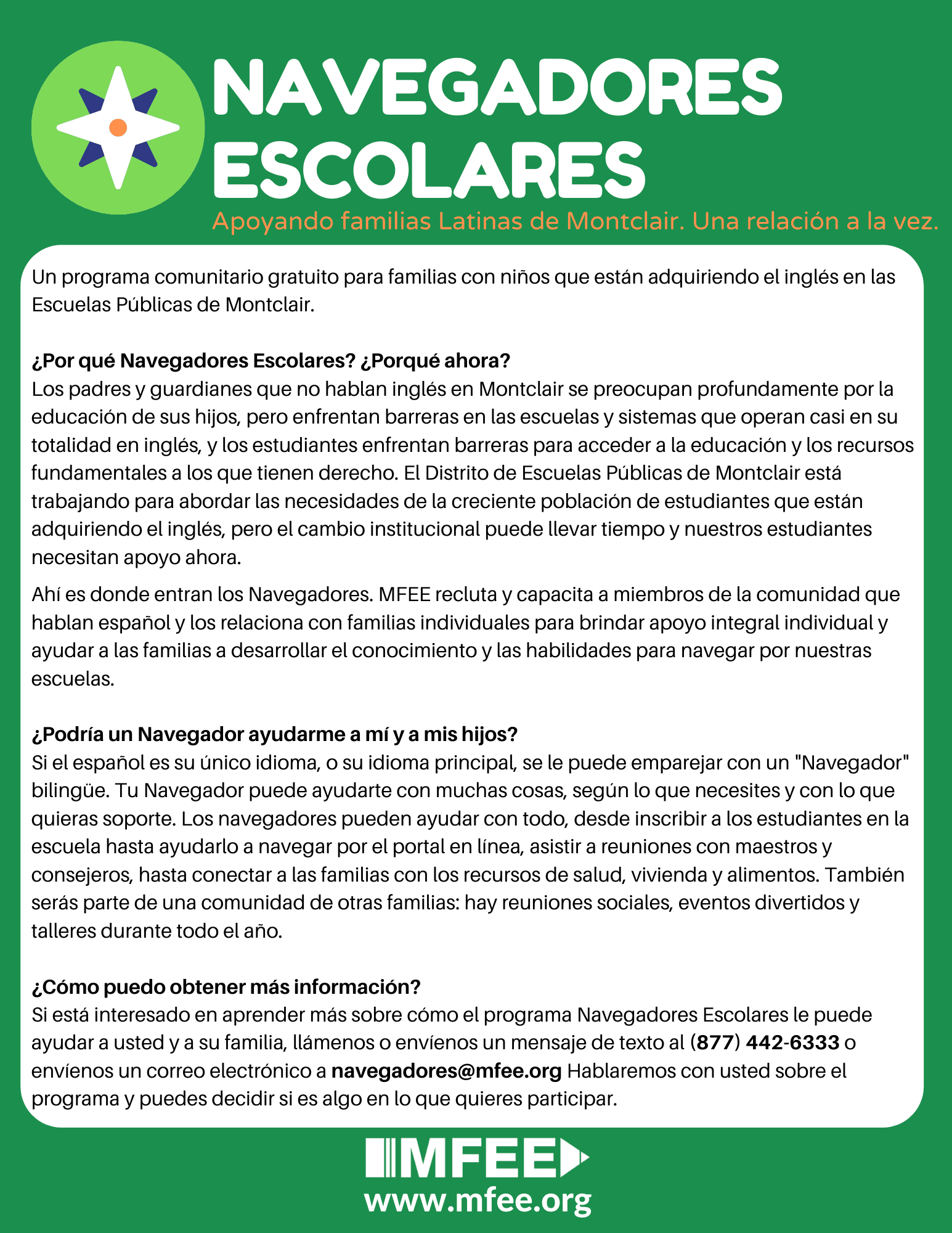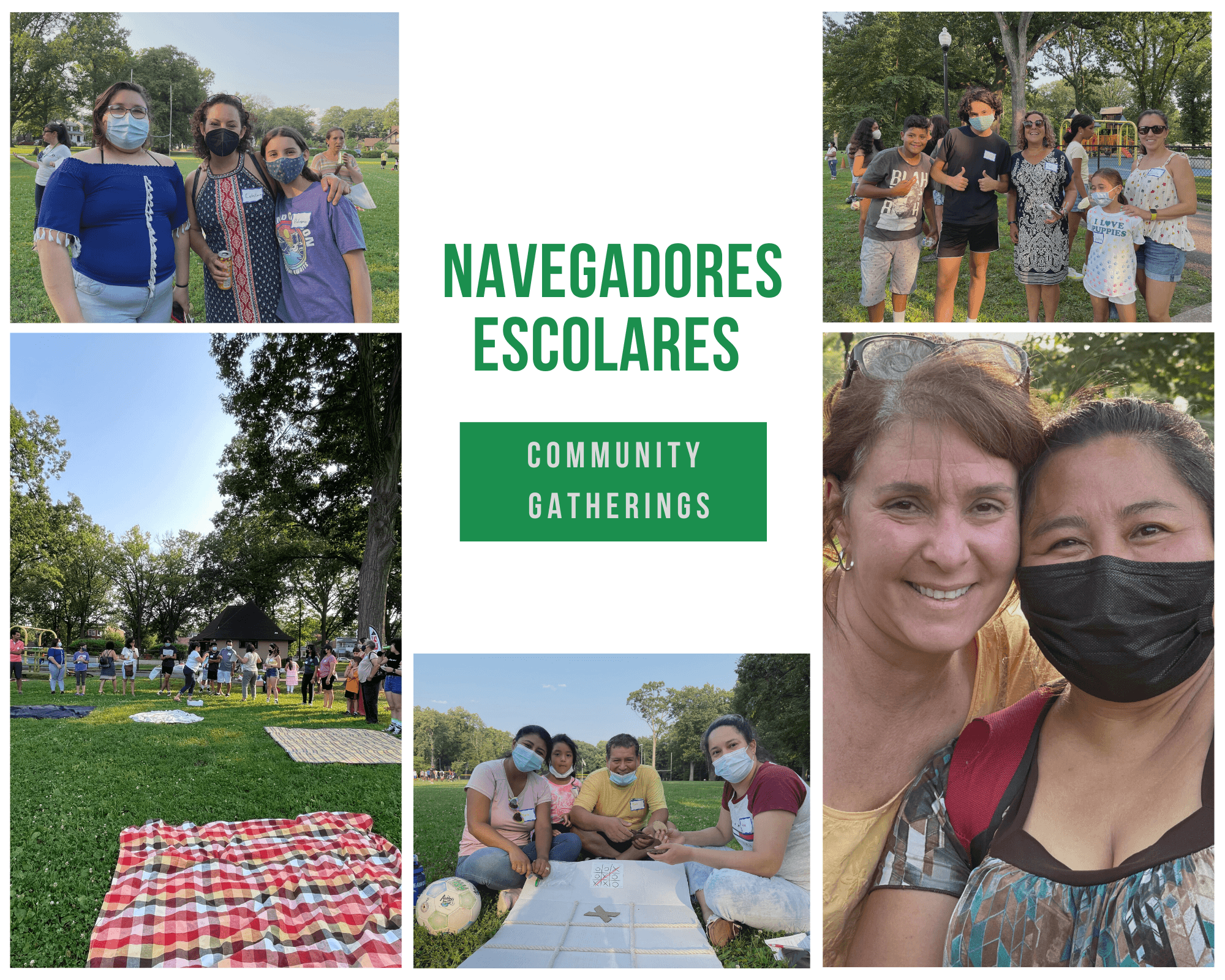 MFEE is looking for Spanish-speaking adults to help Montclair Latinx families navigate school and access to education.  
This is a call to action to help students and families who, because of language, cultural, or other obstacles, are struggling to access public education and to advocate for themselves.
The heart of this program are our parent navigators, Navegadores. Each Navegador is matched with a student and their family, La Familia, that needs support and has opted to join this program. Navegadores provide direct hands-on support to help the student and family access and take advantage of school and local resources. 
What do Navegadores help Las Familias with?
The direct support Navegadores provide is determined by each Familia's unique needs and priorities, learned over time as relationships and trust grow. Navegadores are the main point of contact for La Familia, but there is a large bench of MFEE staff and volunteers to provide resources and support.
What do Navegadores do? 
Communicate one-on-one with La Familia, by phone, text, and Zoom (and in-person if everyone agrees).
Participate in occasional social group gatherings, like family picnics, organized by MFEE.
Join regular check-ins with the cohort of Navegadores and MFEE, and participate in custom-designed trainings.
Who are our Navegadores?
Navegadores don't need to have knowledge specific to navigating the public school system. Navegadores need the approach and attitude to provide hands-on help to Las Familias.
Our Navegadores are:
Problem-solvers
Empathetic
Tenacious
Self-organized
Comfortable with technology
Available on a flexible schedule 
Strong conversational Spanish speakers
To learn more, including how to apply, please read the Navegadores Recruitment FAQ.
Have you already read the FAQ and want to let us know you're interested in being a Navegador?  Please complete this short interest form: https://bit.ly/Navegadores_apply
If you are interested in being paired with a Navegador for support - for yourself or on behalf of someone else - please contact Masiel Rodriquez-Vars at masiel@mfee.org
Si está interesado en ser emparejado con un Navegador para recibir apoyo, para usted o en nombre de otra persona, comuníquese con Masiel Rodriquez-Vars en masiel@mfee.org
Why Navegadores Escolares?
There are nearly 100 English Language Learners (ELLs) enrolled in the Montclair Public Schools and an additional number of students who have a passable command of English, but whose caregivers do not speak the language. (An "English Language Learner" is defined as a national-origin-minority student who is limited-English-proficient.) In Montclair Public Schools, most ELL students are Latinx, and Spanish is their primary language. The number of ELL students has more than doubled in the past two years, and this population is projected to continue growing quickly over the next several years. 
ELL students face multiple challenges, including gaps in learning and social and emotional needs.  In addition, many of these students have experienced trauma in their home countries or through a relocation process, and they continue to navigate difficulties acclimating to a new community with little access to supportive networks. The social isolations due to the pandemic have exponentially compounded the challenges ELL students face; students who arrived in Montclair shortly before the pandemic have been particularly isolated, since they did not have the opportunity to connect with other students and making relationships via Zoom with little to no English skills is virtually impossible.
The challenges faced by ELL and Latinx students whose parents do not speak English are compounded because of their caregivers' limited ability to help them navigate school. Currently, the school district has limited resources to support Spanish-speaking parents. Key school engagement experiences are conducted almost exclusively in English: school registration, back to school nights, parent/teacher conferences, high school guidance meetings, and IEP (individualized education plan) meetings for students who qualify for special education services.