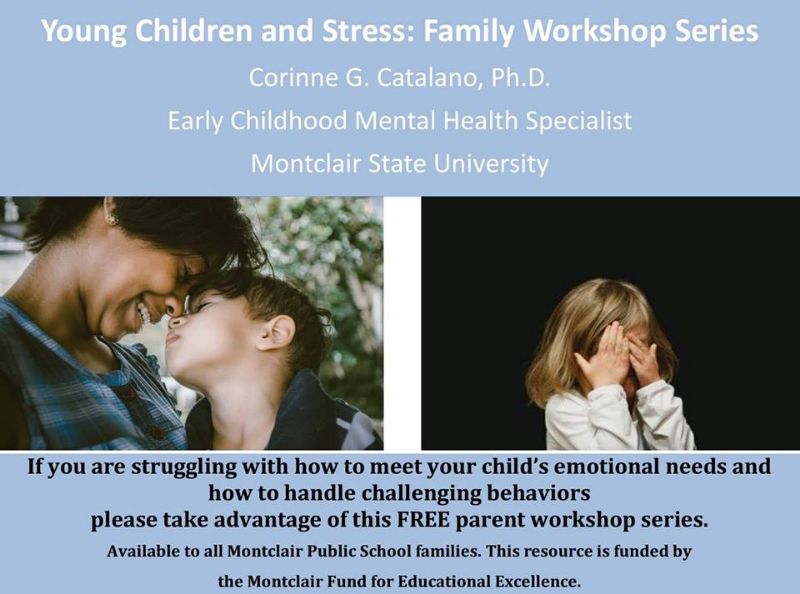 Young Children and Stress: Family Workshop Webinar Series
To address rising levels of anxiety in children, the Montclair Fund for Educational Excellence (MFEE) is excited to partner with the Montclair State Center for Autism and Early Childhood Mental Health (CAECMH) to provide parents of our youngest learners with tools for navigating childhood stress. MFEE will provide funding so that all Montclair Public School families can have free access to the Young Children and Stress: Family Workshop Webinar Series, a collection of six online webinars.
CAECMH created the online series after 15 years of research and in-person parent trainings. The lessons emphasize self-regulation skills and help parents gain insight so that they can be a source of calm. The webinars also do a fantastic job of helping parents identify their own stress triggers and how to address them.
"We know how stressful today's world is for parents and children," says Dr. Corinne Catalano, Assistant Director for Consultation Services at CAECMH and co-creator of the series, "and the social/emotional skill of managing stress is critical for helping children develop and learn." Sessions are geared to parents and educators of children with and without identified special needs or challenging behaviors, birth to age 8.  
"We are excited to fund this critical resource for all of our parents," says Masiel Rodriquez-Vars, MFEE Executive Director. "Parents who took Dr. Catalano's workshop at MFEE's fall You Got This! Mini-Conference asked for greater support in this area, and we are pleased to be able to fund this for all of our district families." MFEE will also make the series to all district staff members.
A key goal of the webinars is to provide coaching that is easy for parents to access without worrying about attending a meeting or getting childcare.
Dr. Catalano will host two in-person meetings to give more information about the series - one at Charles H. Bullock School on April 17th at 7pm and one at Edgemont School on April 18th at 7pm. Webinar links will be distributed after these meetings and will be live until the end of June 2019.
The webinar topics are:
What is stress? A little neuroscience and a lot of self-reflection
Busy environments, scratchy socks, sugar or lack of sleep: what stresses you and what stresses your child?
Stress begets stress and calm begets calm: what is your role in your child's stress and your child's calm?
Attention and motivation: what might be getting in the way?
Navigating the rough waters of social interactions: how can you help?
Pulling it all together